Organic Lawn Care Service in Seminole, FL
Seminole, Florida is located in Pinellas County and home to almost 18,000 residents. It's a quaint town but you still have easy access to places like Tampa. Many locals enjoy visiting Lake Seminole Park when they want to have some fun. Seminole is known for it's beautiful weather, rich landscapes and for being located just minutes from the beaches.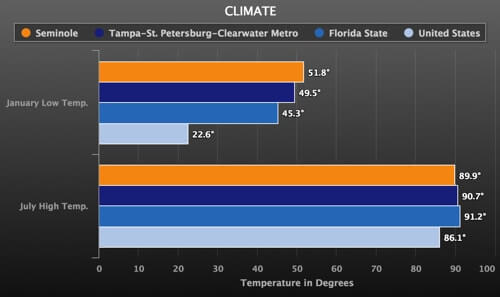 The Climate in Seminole
If you own a home or rent a property in Seminole, you know that feeding and taking care of your trees, shrubs and lawn is very important. Seminole gets an astounding 52 inches of rain every year. That is why it is so important to monitor your lawn. You must make sure it's not getting too much water and that irrigation is working properly. Although rare, there can be times when Seminole is lacking water. During these times, Seminole's water use restrictions should be obeyed since it affects everyone in the area. Temperatures can reach up to 90 degrees in the summer and have the ability to drop down to 30 degrees on some winter nights. Because of this, it's very important to take the proper precautions in caring for your landscape.
What Grass Types Grow in Seminole?
There are several lawn types that grow in Seminole. At Natural Green, we know how to treat all of them properly!
St. Augustine
Bermuda
Zoysia
Bahia
How Much Does Lawn Fertilization Cost in Seminole?
The average price consumers pay for fertilizing services in Seminole is $101/mo. This does not include treating your lawn for diseases, insects or weed prevention. You can see the pricing details in the table below.
| | | |
| --- | --- | --- |
| | Average reported costs: | Most spent: |
| National | $249 | $102 - $432 |
| Florida | $139 | $75 - $221 |
| Seminole | $101 | $47 - $160 |
Some Local Jobs We've Done in Seminole, FL
Get Your Free Lawn Analysis
Natural Green includes fertilization, outdoor pest control, weed control and disease prevention in our monthly lawn plan. What's even better is we make sure your lawn is still safe for your kids and pets! Pricing depends on many factors so why not set up a free lawn analysis with us today?